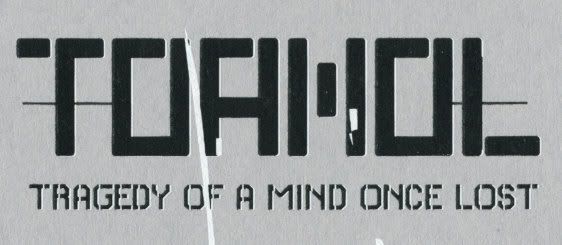 T.O.A.M.O.l. var/consisted of:
Frode-vocal
Dirk Dee-guitars, b vocal
Ron Jay-guitars, b vocal
Chris-drums
Dan Bjerkan-bass, b vocals
Tragedy Of A Mind Once Lost (Heart First Records, beat 036/2005)
Sucked in/justified torture
Race of tales/Toamol
Newborn/Suffocate
Once lost/Realm of lies
*ordinær versjon er grått cover med Svart/hvitt trykk. Spesialversjon er svart cover med brunt/hvit trykk. Begge er silketrykket utbrettscover.
*Ordinary version is grey cover with black/white print. Special version is black cover with brown/white print. Both is screened printed fold out cover.

Heart First Records